'Seven Steps for Successful Life Transitions Workshop'
with Practitioner Cheryl Kauper, RScP
Thursdays beginning December 7th through January 25th ~ 6 to 7:30 pm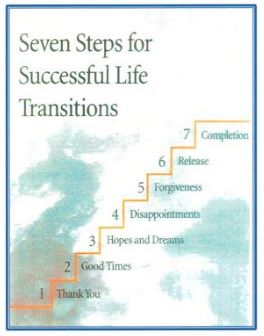 Seven Steps for Successful Life Transformations Workshop
Seven Steps for Releasing 2017 and Freely Moving into 2018

The "Seven Steps for Successful Life Transformations Workshop," explores a system for dealing with life changes. The process is a flexible and adaptable process, whether it relates to a friend, family member, business colleague, or even an aspect of you. The relationship can be undergoing any sort of transition, be it by death, disagreement or geographic distance. This formula has stood the test of time and is useful in dealing with any challenge or change in life. This Seven Step process helps you release old parts of yourself, as well as let go of resentments and "hang ups" from the past thatkeep you from accessing your highest possibilities. You'll also be able to build on your strengths to open to your soul and come to appreciate your unique gifts in new ways!This versatile process also provides a vehicle to review and release the past year, and opens up to making empowered, conscious choices in the New Year.Please feel free to attend, even if you know you will miss some of the classes as a result of the holidays.
Date: Thursday, December 7, 2017 thru January 25, 2018
Duration: 8 Consecutive Weeks
Time: 6:00 – 7:30 p.m.
Materials: 1 Workbook and 2 Meditation CD's (will be provided at class)
Cost: $85 Registration Includes Cost of Materials (payments can be arranged)
Facilitator: Practitioner Cheryl Kauper, RScP